At the start of every new year just like everyone else we turn the calendar. However, at Osborne Mint we go one step further and "flip the coin." As cathartic and cleansing as the move to 2021 will be, we still have a lot to look back on in 2020. Just like a coin (round) has a back and a front, every new year is a good time to look back on the past year and look forward to what is to come. So let's do just that in celebration of completing 2020 and starting 2021.
2020 WAS SOME YEAR!
The end of 2020 marks the first full year with our new Osborne Mint website, Shop-The-Mint e-commerce site, along with multiple collectible round launches from cannabis to universes. Thank you for your visits and purchases.
The From-The-Mint blog debuted in 2019 and saw a steady increase in readership in 2020. Just like all of our collectibles, these blog posts are Made in the USA to keep readers informed about new collectibles, educate about spot pricing and reach out to build a snowman together. If you haven't read all nine 2020 posts here are what you've missed:
Blog VIII (8) – Shop-The-Mint: introducing the Osborne Mint e-commerce web portal where you can purchase collectibles directly from the mint, including limited edition rounds, exclusive rounds and pieces from the vault.
Blog IX (9) – Cannabis Rounds: this was a HIGH-light of the year. In February we launched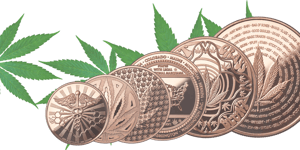 five collectible rounds that featured the ever-growing cannabis market, including throwback designs and a listing of legalized states, which has recently grown from the 11 on our round to now 24 – could mean a new round in 2021? This collection was so popular that we gave our Facebook audience the choice of picking 2 designs to be struck on one unique round in .999 fine silver. They chose "Big Leaf" and "Hidden Leaf".
Blog X (10) – Splash of Color: the righteous devotion to stained glass art from across the globe. Inspired by multiple real-life stained glass windows, placed on a collectible round that glistens like the art it represents. These are a must see!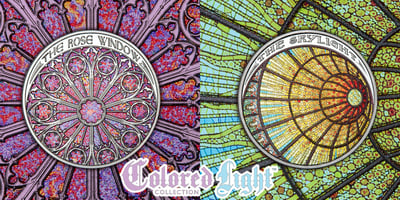 Blog XI (11) – Coronavirus Rounds: perhaps the most significant component of 2020 was the rise of the global pandemic. In response Osborne Mint, working remotely of course, released a fine copper round to document the unforgettable year that featured the virus molecule.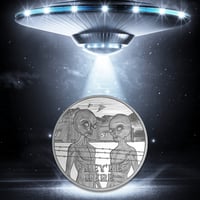 Blog XII (12) – Aliens Among Us: Area 51 is the prime directive for this read, we know "they" are out there and this round provides our rendition of what these aliens look like. Its reception was literally out of this world! This blog was like no other as it detailed the impact of aliens in and on our culture. The popularity of this fine silver collectible encouraged us to design a second round in late 2020 and a 3rd is in the works for spring 2021, commemorating that THEY DO EXIST!
Blog XIII (13) – See Spot Run: this informative read described the global pricing model for silver; defining spot pricing and helping readers identify frauds.
Blog XIV (14) – Silver Indians, is destiny predetermined?: One has to wonder after reading this blog post about starting with 48 silver Indian leaders and then making collectibles a career.
Blog XV (15) – Silver and Gold: even Yukon Cornelius knows the benefits of gifting silver for the holidays. Silver rounds and bars make a memorable impression that can become even more valuable with the passing of time.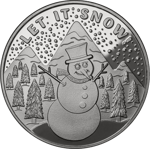 Blog XVI (16) – Let It Snow: this holiday blog asks the question, "Do you wanna build a snowman?" And answers that question with five completely new designs celebrating Christmas, Hanukkah and Kwanzaa, along with professing our love for winter with a resounding YES!
What an amazing reverse side of the coin, certainly that was a lot to cover in a year but we did it, now what's next?
WHAT WILL 2021 BE?
The obverse of the round leads us to the future. 2021 will be an amazing year for Osborne Mint, featuring new artistry, collection debuts and exclusive mint pieces.
Fight for Freedom's Sake
One of our first collectibles in 2021 will be a continuation of our increasingly popular Fight for Freedom's Sake collection. This silver bar depicts those women who served in the military in an effort to support our troops. This two ounce, .999 pure silver bar is the fifth in the Fight For Freedom's Sake collection. This piece will be available exclusively from the Osborne Mint, Shop The Mint ecommerce site during the 1st quarter of 2021. Sign up here to be notified about pre-sale information and more!
Fine Art Collection
As we look forward to 2021, our first collection of the year highlights some incredible classic art, aptly titled the Fine Art Collection. Some of the most amazing art in the entire world is housed at the Smithsonian Institute. Pieces from numerous artists across centuries of art are on display. The ingot collection will feature four spectacular pieces of art from the museum. Collectors will actually be able to hold a replication of these canvases in their hand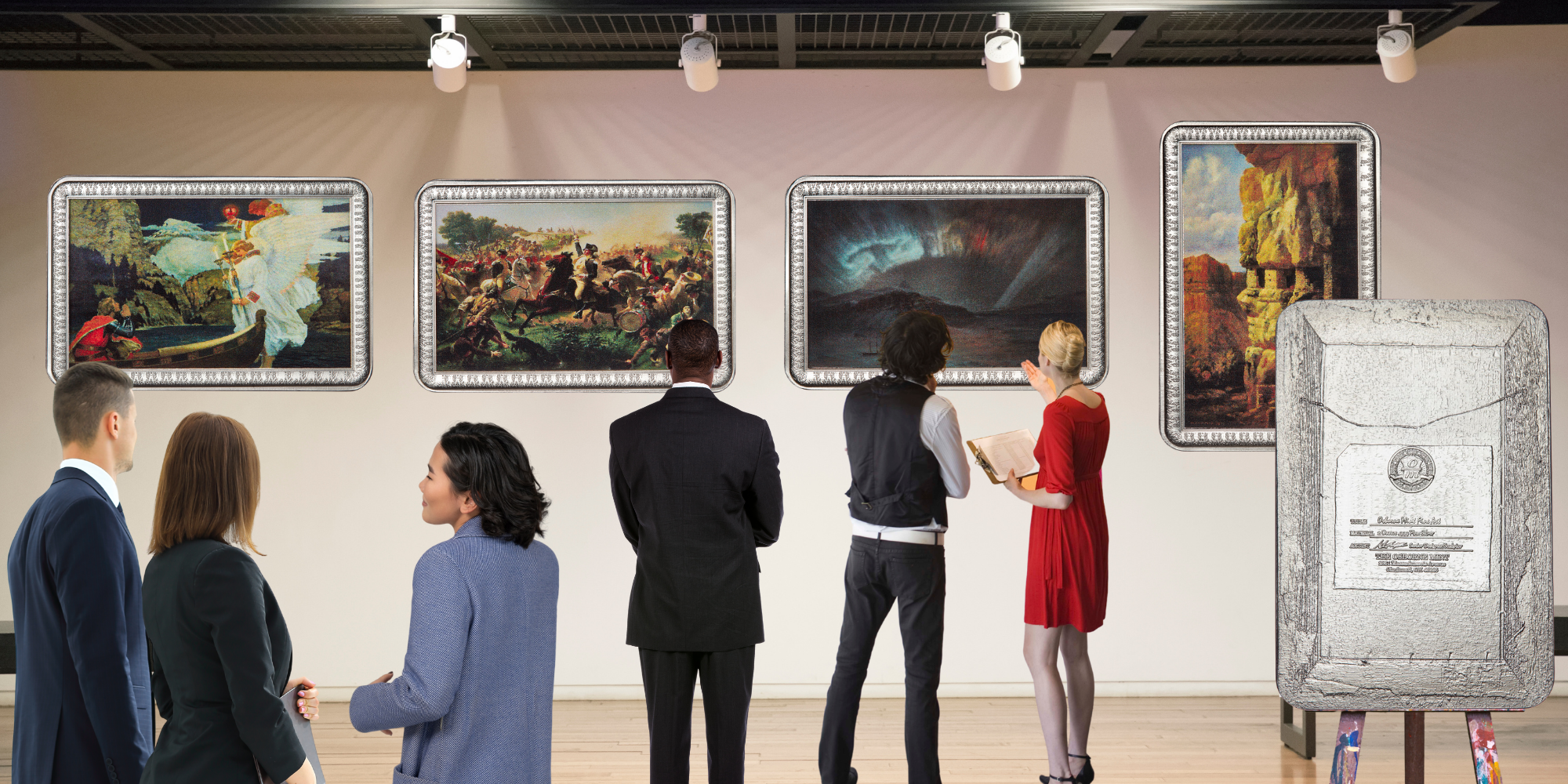 The first bar will present the classic Cliff Houses on the Rio Mancos, an oil painting by William Henry Holmes. This silver piece highlights the earthy tones selected by the artist. The painting is re-created in full on a 2 oz. bar of .999 fine silver. The silver acts no only as the canvas for the piece but a frame as well. The reverse will also resemble the back of a painting with a hanging wire, and information about the collection, plus the O/M mint mark. As we go room to room in the Smithsonian American Art Museum, future featured paintings will include Washington Rallying the Troops at Monmouth by Emanuel Gottlieb Leutze, The Knight of the Holy Grail by Frederick J. Waugh and Aurora Borealis by Frederic Edwin Church.
Cryptid Creatures
Another series in the queue for 2021 will take you to some dark and mystical places. Discover creatures that many say are real, but that I've only seen in nightmares or heard of in folklore. The Cryptid series will challenge your belief in the unreal and have you asking the question: "Did I really see that?" Cryptozoologists will contend that while the mainstream scientific world thinks these creatures are unsubstantiated, believers know they are real. Cryptids including the Jersey Devil, Yeti, Drop Bear and Jackalope will be depicted on 1 ounce fine copper rounds and .999 fine silver rounds. The silver rounds will be sold through Osborne Mint's e-commerce portal - shop-the-mint.com. Get ready to become a believer. Be one of the first to be notified when these go on sale by signing up here.
Be sure to follow us on Facebook and Instagram and join our newsletter list. Following us throughout the year has its advantages, we post advance notice of collectible debuts, offer special discounts and host contests where participants can win free rounds or bars.
If you have an idea for a collection theme or concept that we could mint, send me an email. If you have a custom design you would like to see in copper, silver or gold plated brass email me as well, some of our best rounds have come from suggestions from collectors just like you.
See you on the flip side! Thank you for following along last year and I am looking forward to the New Year to come.