During a Board of Governors meeting in May of 2022 a new Cincinnati Numismatic Association Literary award was created to recognize the quality of the original articles written for our newsletter. The Governors also decided to give the award retroactively back to 2020, the year of the Cincinnati Numismatic Association's 90th anniversary. When informed of the new award Gene said he was humbled but pleased to know that his colleagues thought so highly of him.The first Gene Hessler Literary Awards were announced at the Christmas Dinner meeting and charity auction on Friday, December 9th. The medals are still in production, but when they are completed, silver first place and bronze second and third place medals will be engraved and presented to the recipients.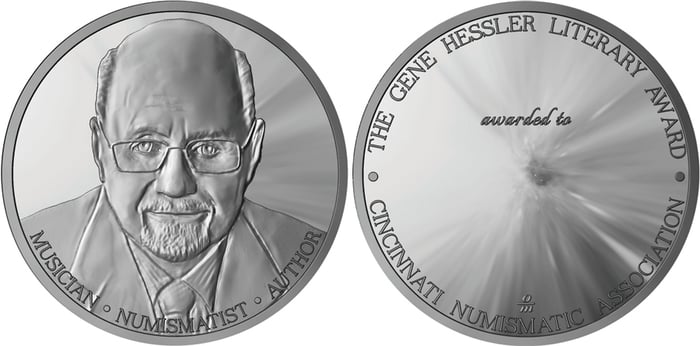 An anonymous three-person panel of members reviewed articles and picked three or four for 2021, 2020 (excluding August), and the August 2020 90th anniversary issue. These selections were then read by three judges, numismatic writer and author Wendell Wolka, numismatic editor and writer Gerald Tebben and Whitman publisher Dennis Tucker resulting in the final awards.
2020
First place: Joe Boling, Infrared Inks on Federal Reserve Notes
Second place: Michael Rice, The Fatman Dollar
Third place: Michael Folk, Once Upon a Time, At a Local Coin Club...
90th Anniversary Issue (August 2020)
First place: Michael Rice, Two Majestic Coins & Their Remarkable Designers
Second place: Steve Roach, Cincinnati's Painter of Money: Charles A. Meurer
Third place: Michael Sullivan, Establishing Your Own Collecting Goals: 24-Coin Flowing Hair & Draped Bust Dollar Set
2021
First place: Michael Rice, Eagles, Cultures, and Coinage, part one
Second place: Bob Heeg, Free Tools for Coin Collectors
Third place: Barry Siegel, American Whaling Depicted on Obsolete Banknotes
Gene Hessler was born in Cincinnati, Ohio in 1928. After studying music in Cincinnati he traveled as a trombonist with the bands of Elliot Lawrence, Woody Herman, Billy May, and others. He moved to New York City in 1955 and received a master's degree from the Manhattan School of Music in 1957. Hessler remained in NYC for over 30 years performing in the Broadway pit orchestras for many musicals. As a free-lance trombonist he performed or recorded with Doc Severinsen, Tommy Newsom, Urbie Green, Buddy Rich and many other New York musicians. He travelled through Africa with a musical group in 1964 and went around the world with the Cincinnati Symphony Orchestra in 1966; both were State Department tours. It was during his time on Broadway that Hessler became a serious numismatist under the mentorship of Lester Merkin a retired musician and respected numismatic dealer, now deceased.
In addition to writing for many numismatic publications, Gene was a columnist for The Numismatist and Coin World and served as editor for PAPER MONEY, the journal of the Society of Paper Money Collectors. In addition to his published memoir, Hey! Mister Horn Blower, he has also written five books related to paper money and the engravers and designers thereof.
In the 1970s Gene appeared on What's My Line? and was interviewed twice on the NBC Today Show. He was the Curator of the Chase Manhattan Bank Money Museum, 1967-1977, but continued working as a musician, and Curator of the Mercantile Bank Money Museum (Eric Newman Collection) in St. Louis, 1986-1989. He discovered and published several previously unknown early designs for U.S. currency through research at the Bureau of Engraving and Printing and the Smithsonian Institution. He is the recipient of numerous awards including the Lifetime Achievement Award and the Farran Zerbe Award from the American Numismatic Association, and is an Elected Fellow of the American Numismatic Society. The Numismatic Literary Guild honored Gene with its prestigious Clemy Award in 2007. Gene is a long-time member of the Cincinnati Numismatic Association. The medals are being struck at the Osborne Mint in Cincinnati, the oldest private mint in the United States.
About Osborne Mint: www.OsborneMint.com / #OsborneMint
Established in 1835, Osborne Mint is America's oldest continuously operating private mint. Osborne Mint is part of the Osborne Coinage family, which includes Osborne Coinage, TokensDirect and Van Brook of Lexington. The mint, a 60,000 square foot facility in Cincinnati, Ohio, houses the development, engraving and manufacturing of numismatic quality collectible rounds, bars and coins.
Every Osborne Mint product is manufactured to strict standards for metal purity, weight and dimensions. Osborne Mint strikes thousands of collectible rounds annually and circulates them to the public through certified distributors. Gold plate, fine silver, copper and brass collections from Osborne Mint are truly pieces of art and are 100% "Made in America." – Art Belongs on a Coin
Stay in the know, follow our hashtag: #OsborneMint
For more information on Osborne Mint visit our website: www.OsborneMint.com