Merging the Worlds of Fantasy, Digital and Numismatics
As any coin collector will tell you, finding a mistake is a rare occurrence—and valuable. But what happens when a mint actually pays homage to errors? As counterintuitive as it may seem, Osborne Mint (a part of the Osborn Coinage family of companies) is doing just that with its spring release of the Mylathecos™ Collection of Heavenly Errors Coinage.
Partnering with long-time collector and inventor Ken Oliver, Osborne Mint will introduce the first coin in the series in March 2023. Depicting the collection's namesake, Mylathecos, the custom-minted, fantasy-based silver commemorative coin will be released in combination with a digital version—one of the first such digital/physical numismatic offerings in the country.
Sprung from Oliver's creative mind, Mylathecos is a mythological deity who employs magic to create errors on US minted coins. But to fully understand his creation's origins, one needs to travel backward in time to the unintentional release of one of the most famous error coins: the 1955 doubled die Lincoln penny.
A craze is born
The Lincoln penny error, caused by a misaligned second hit, happened during one night shift at a Philadelphia Mint. Its doubled features were clearly visible on both the date and inscriptions, making the rare mistake easy for non-experts to spot. Roughly 20,000 of the pennies were introduced into circulation after the minting error.
"People of all ages were looking for it," says Oliver. "Because of the rare error, it was valuable."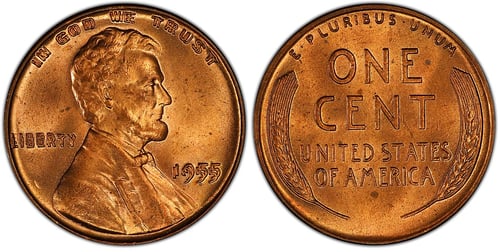 Indeed, its value has held up over time. In early 2023, a 1955 doubled die wheat penny sold for $2,050 on eBay.
This sub-category of coin collecting, known as error and variety coins, was part of Oliver's inspiration for the Heavenly Errors Collection. Encouraged by his granddaughter, his interest in science fiction and fantasy collided with his passion for numismatics: What if magic played an integral role in the occurrence of the error?
Using a real-world event as one of the building blocks of the character's backstory, Oliver hopes the product offering will inspire a younger generation to begin collecting. "Many collectors say they became more invested as teenagers," he explains. "When they're learning about history in school and also admiring the details of period-based coins, something clicks."
Digital is pivotal
Oliver's background in IT (and literal rocket science!) made including a digital version of the coin a "no-brainer."
"One of the products I worked on many years ago was a store-and-forward message switch," he explains. "Today the technology would commonly be referred to as the blockchain, which is how information for NFTs is stored."
NFTs, or non-fungible tokens, are growing in popularity as marketing tools. Because ownership of an NFT is recorded in the blockchain, the token can be monetized—sold or traded by the owner. In fact, the global market for NFTs in 2021 was listed as $17 billion.
And while many NFT designers may not be considered fine artists, in this case, combining a digital offering with a high-quality physical coin (a pairing referred to as "phygital") required talent with a capital T. Admits Oliver: "I have no artistic ability. I needed to find an artist."
Lucky for Oliver, he located a skilled candidate less than 15 miles from where he lives, an artist known as JAHZ. "Although he (JAHZ) didn't know much about coin collecting, he had a deep appreciation for mysticism. He got it." In less than two days, the illustration was complete and Mylathecos was born. Nevertheless, the journey to "full phygital" had only begun. Oliver notes with a smile, "I don't own a company capable of manufacturing metal objects."
But coins are critical
Collaborating with Osborne Mint formed the next important step: crafting the physical item. As America's oldest continuously operating private mint, OM was able to capture the essence of Mylathecos on a collectable .999 silver coin.
While he is well versed in all things electronic, Oliver describes his introduction to physical coin collecting with nostalgic fondness: "My passion for numismatics began as a young boy growing up in New York City in the 1950s, when my mother took me to Stack's Coin in mid-town Manhattan."
Looking at the pre-Revolutionary War displays, Oliver not only gained an understanding of United States history, but also a deep appreciation for the unparalleled artistry of the coins. "The staff really took their time to describe the beautiful imagery. So I was hooked."
And as of today, Oliver himself has never found a true doubled die 1955 Lincoln penny. He speculates, "Maybe this frustration is what led to me creating a fantasy-based series of error coins!"
From 'what if' to 'how to'
Beyond his education and training in technology, Oliver is also passionate about less grounded pursuits, having cultivated an early interest in the supernatural. Reading various works by Isaac Asimov as well as Erich Von Daniken's "Chariots of the Gods?," Oliver added to an already robust background in Greek, Roman, and Asian mythologies. His immersion in science fiction and fantasy informed the creation of Mylathecos, whose name is aptly an abbreviation of a Greek-derived phrase meaning "the mysterious error god of the universe."
Oliver's website describes the deity as "a member of an omnipresent family of intergalactic wizards and magicians who reside in a remote area the citizens of Earth call the Heavens."
Such an elaborate origin story is sure to widen the coins appeal, from typical collectors to those interested in mythology, science fiction, fantasy art, and history.
When available, the initial release of the commemorative silver proof coin and its digital (NFT) equivalent will be available for purchase directly from the Mylathecos website. This phygital offering as well as all other Series 1 and Series 2 listings can be conveniently purchased by credit or debit card rather than with cryptocurrencies.
A portion of the proceeds will be donated to the Young Numismatics Programs of the American Numismatic Association (ANA) and the Combined Organizations of Numismatic Error Collectors of America (CONECA).
Bookmark our blog page, share on social media (Facebook and Instagram) and send it to fellow collectors. Look for our hashtags #Osborne, #OsborneMint, #MadeinAmerica
Osborne Coinage


Established in 1835, Osborne Coinage is America's oldest continuously operating private mint. The Osborne Coinage family includes Osborne Coinage, Osborne Mint, TokensDirect, and Van Brook of Lexington. The mint, a 60,000 square foot facility in Cincinnati, Ohio, houses the development, engraving and manufacturing of everything from inexpensive tokens to numismatic quality collectible rounds and coins.
Osborne Mint products are proudly made in the USA and every purchase of an Osborne Mint product supports American jobs.