Splash of Color
Have you tried the adult coloring books? Have you taken time to relax and color a page or two, mindful to stay in the lines (or not)? Specialists, psychologists and physicians say that coloring is a relaxer, it's mentally pleasing and leaves you with an immediate sense of accomplishment and creativity. It is this same conceptualization that encouraged us at Osborne Mint to try the coloring idea with our designers and master craftsman, with one major difference: instead of a page from a coloring book, we challenged them with colorization of a collectible round – but I still promised them that if their coloring was good, I would put it on the refrigerator in the break room. I actually tested magnet strength on the break room freezer to see just how it would work.
Tickled Pink
Once our designers and craftsmen got the opportunity to colorize our coins, medallions and collectible rounds, the creativity started flowing! Since our initial dive into adding color to our pieces, the practice has become a staple of our product line. Now we have the potential to colorize nearly all of our products, whether it be with a dash of blue or dabble of red.
Our digital colorization capabilities are unmatched in the industry. We can color the entire coin, parts of the coin and/or both sides if desired. Our skilled craftsmen and designers can even place a picture that is not part of the minted piece, directly on the round. This art on coins becomes even more complex when considering the size of the canvas. The rounds we can colorize vary from 2.50" down to 1.25" in diameter, not a lot of space to paint The Last Supper. Placing real-world colors on these collectibles increase their level of uniqueness and desirability.
These colored rounds make a lasting, one-of-a-kind impression. The depth of the colors mixed with the metals creates a visual dimensionality. The advanced ink technology enables us to exact match colors to your branding guidelines. We can duplicate any Pantone color with precision. Many corporate buyers of our colored rounds take advantage of this specificity and print their logo directly on our coins. Other buyers relish the idea that we can replicate their image or crest down to the smallest and most intricate detail.
Challenge Coins
represent our major line of colored rounds with every color of the rainbow being used across hundreds of custom designs. (More on the amazing Challenge Coins in a later blog - stay tuned)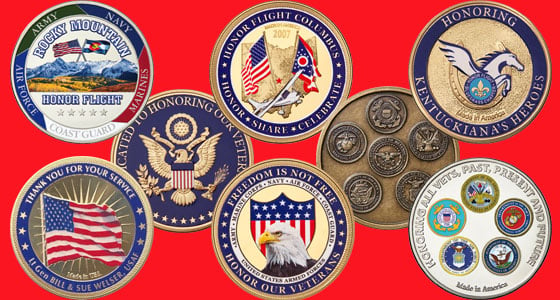 Out of the Blue
Many artists have embraced colorized coins as an opportunity to share their work with an entirely different audience - coin collectors. Much in the way digital engraving has made it easier to create uber detailed dies, digital coloring empowers us to replicate art, complete with gradients, highlights and undertones.
Our most recent use of digital colorization features stained glass windows. This two round set displays a conglomeration of stained glass art from around the world compiled into Rose Window and Skylight Window collectibles. Renowned American medallic sculptor and artist
Michael Berman
"painted" these stained glass pieces as a tribute to the artistry of the past. The depth in the appearance and distinction of these "panes of glass" remarkably replicates the actual stained glass windows from which they were modeled in beauty and grace.
Jeff Stegman our CEO of
Osborne Coinage
, the parent company of Osborne Mint described these pieces best, "The stained glass imagery had to look real and color-true. Once you hold one of these rounds and see the shimmering light, the reflective qualities and the detailed artistry you will be mesmerized. These pieces truly demonstrate the artistry of our craftsman."
These
Colored Light
1 oz. rounds of .999 true silver achieved tranquil iridescence by manipulating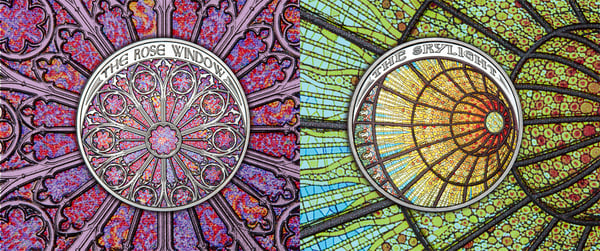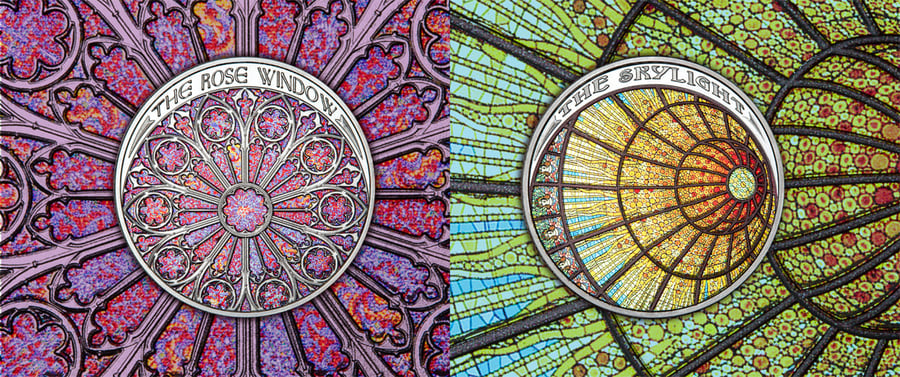 and in some cases removing all color to allow the brilliance of the silver to shine through the print. In this case we used the color of silver as an accent to the colorization.
Gold Member
Don't confuse colorized coins with gilded or bimetallic pieces. Sure, technically those have different colors of metal but it is not the same construct.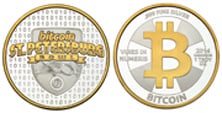 Gilded coins
provide the impression of colorization by taking a thin layer of traditionally 24-karat gold leaf and adding it to the surface of the coin. While this decorative technique adds to the visualappeal of the round, it conversely does not add financial value because of the small quantity of the gold used for the technique.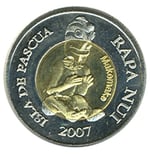 Bimetallic coins
also show different colors, but do so by combining two separate metals or alloysinto one piece. The stark contrast between these two metals provides a different form of colorization.
Caught Red Handed
My first discussion of colored coins occurred when I found my first red quarter. Not everyone reading this will remember or even know what the red quarter is, but for me it was a treasure. Years ago when we used pay-phones (same memory notation as above) utility men would carry quarters with a dollop of red paint or fingernail polish on them. These red quarters were used to differentiate their coins from the rest of the lot. These test coins would periodically get into circulation and receiving one in your change was a reason to celebrate.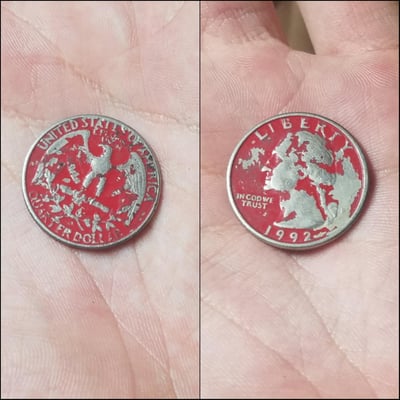 These first renditions of the colored coin were also said to be a message from the anarchist as a passive means to express their anger, some say they represented house money and were given to arcade players as a free game and others still believe that these were used by waitresses to prime the jukebox using red quarters from the cash register that could be removed from the take when the cash box was emptied.
Still to me the red quarter is on the other extreme of colored coins, without all the magic and pageantry of today's pieces. Who would have thought that years after my first red quarter I would again be mesmerized by colored coins and that they would be my livelihood
Little White Lie
I told everyone about the benefits of adult coloring books. But in reality, I tried coloring and to tell the truth it didn't work for me, I wasn't transported back to my youth, I wasn't calmed by the activity, I wasn't all that proud of the finished product and I realized once and for all that I have zero artistic talent. However, as for the colorized rounds created by our designers and craftsmen, well their work speaks for itself… and it can be seen gracing the breakroom freezer door.
#Osborne, #OsborneMint, #MadeinAmerica, #Cincinnati, #Collectible, #Color, #ChallengeCoin, #AdultColoringBooks