Premiering the Lisa Parker Series as the first coin is Moonstruck. Profiled very
close to one another are a wolf and a girl looking eye-to-eye at each other. The
brownish gray wolf with bright blue eyes has his ears perked forward intently
staring at the girl. The girl with her long brunette hair, hooded by a red cape,
stares directly back at the wolf. Portrayed in the woods, illuminated by the light of
the full moon, the pair appear Moonstruck.
Moonstruck
This limited edition collection is available in 1 ounce and 5 ounce . 999 silver. Proof, antique and colorized finishes are offered in both weights.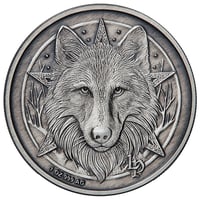 Wild One is the standard reverse for the series. The iconic Wild One is one of
Lisa Parker's most popular art pieces. Featured on the art is the portrait of a large,
majestic wolf's head staring straight ahead with brilliant blue eyes. Directly
behind the wolf's head are the five points of a star. The background contains small twinkling stars and bare branches of the forest trees. On the lower right
portion of the round are the Lisa Parker logo initials. Weight and purity are
displayed on the lower left portion of the round.
Minted in Cincinnati Ohio from American sourced .999 pure silver, it has a minimum weight of 1 Troy Ounce or 5 Troy Ounces. Each round is struck to proof standard, serial numbered, packed in a clear capsule and ships along with a Certificate of Authenticity with matching number. Every product made by Osborne is manufactured to the strictest standards for metal purity, weight and dimensions.