"Silver and Gold"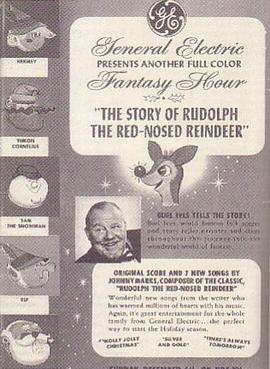 This is the time of the year that I get excited for Christmas stop motion animations like "Santa Claus is Comin' to Town," "The Little Drummer Boy" and my favorite "Rudolph the Red-Nosed Reindeer." Just writing the name of the shows has me humming Yukon Cornelius' "Silver and Gold" anthem. I received VHS tapes of all the stop motion animation shows a few years back, and what a holiday treat that was. I know these shows are 50 plus years old, but so am I. These are holiday shows I grew up with. Every year our family would watch that evening's event together– for me this defines the holiday season.
What if I told you that you could give a gift this holiday season that will appreciate in value, sustain market troubles and not become obsolete? A treasure that even Yukon Cornelius would be excited about. This present could be the perfect gift, even for the hardest to buy for. No I am not talking about your own set of stop motion animation movies, it's even better! It is the gift of real silver from Osborne Mint.
Back in 2015, Time Magazine listed the essentials of a perfect gift (as opposed to great gift or just a good gift) as generosity, insight and emotional impact. These are the components that a gift must have to be considered great. It is these elements that also define a collectible silver round. Still unsure? Let's discuss further:

Why Give Silver Rounds?
UNIQUENESS – It is unlikely you will find silver rounds at a large box store or at the mall. Gifts of this caliber are completely different from the norm. A collectible silver round will be the one gift that will not be duplicated by another, played with once and tossed aside or become a faint memory of the season gone by. Silver collectible rounds can steal the show!
STYLE – Silver rounds never go out of style. This isn't a gift you grow out of, or a gift that is "so yesterday." Silver has been traded as currency since 700 B.C. and still is to this day. Silver rounds can commemorate an event, pay tribute to a star or simply document the year. The plethora of designs enables the gift giver to match interests with content. Simply put, a gift like this is a "keeper."
PERFORMANCE – One of most important benefits of gifting silver rounds is the financial aspect. Instantly, silver rounds present the opportunity for the recipient to enhance their wealth. Better still if the price of silver goes up, the value of their collectible goes up too. Silver rounds are a great means of securing wealth and building assets that could pay dividends for years to come. To steal a phrase, it could be the gift that keeps on giving.
MEMORABLE – Unlike a pile of cash that can be spent on demand or a gift card that could be tossed in a drawer and forgotten, silver collectibles have staying power. Permanence of silver encourages it to be saved, used as a wealth builder and become a financial trust asset. Silver rounds have weight, presence, character and value all with an undeniable brilliance that is not forgotten.
The timelessness of gifting a collectible silver round can span generations. Some collectibles can even be personalized or date engraved to commemorate a specific holiday year. The artistry, collectibility and investment value of the silver round are the elements that deem it a perfect gift for any occasion and especially for the holidays.
At Osborne Mint we have a top 10 list of reasons why collectible silver rounds are perfect gifts for any occasion:
Noble - Very few gifts are as noble as the gift of the precious metal silver as a piece of art.

Generosity – The gift of pure silver is a gift of wealth. It is a serious investment for one's future.

Insight – Silver speaks to the importance of saving. It is a gift that shows hope, belief and confidence.

Emotional – As the gift giver, you will be forever tied to the recipient via this silver round.

Surprise – This is an unexpected gift, rarely duplicated and always appreciated.

Certainty – Silver is an immediate value the moment it is gifted, you can't go wrong.

Impression – State-of-the-art technology is employed to craft the collectible silver round

Design – When matched to the interests of the recipient, the gift of the silver round shows you care.

Pragmatism – The silver round maintains its value and can be "cashed-in" when the time is right.

Series – One silver round can lead to a set of collectibles, marking gifts for next year and beyond.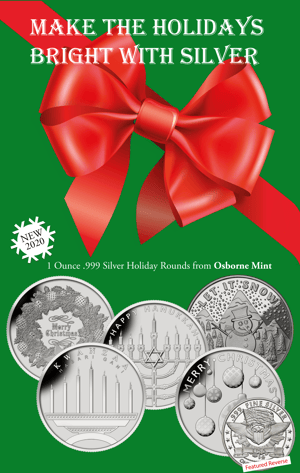 Osborne Mint has a vast variety of collectible silver rounds that are the perfect match for your holiday list. Imagine having all your Christmas, Kwanzaa or Hanukkah gifts purchased on one website from the comfort of your couch. If you have an international traveler consider our Colored Light Collection (rounds that shimmer like stained glass), for a history buff the American Legacy Collection (rounds that commemorate US currency), for an art aficionado consider our Fine Art Collection based on works at the Smithsonian Institute or for the younger gift recipients gift our Galaxies and Nebulae Collection (round that you actually "spin!")
All these collections and more can be found on the Osborne Mint's Shop The Mint e-commerce website. You can view, purchase and ship all from our website.
This year, give the people on your list a gift that will last a lifetime, unlike the VHS tapes I was gifted. Although I enjoyed them at the time, it has been years since I've had a functioning VHS player. If only I had shared this article with the family years ago, I could really be singing "Silver and Gold" as I perused my collection of silver rounds.
#Osborne, #OsborneMint, #MadeinAmerica, #Cincinnati, #Collectible, #Silver, #Holiday, #Christmas, #Kwanzaa, #Hanukkah, #Smithsonian, #TimeMagazine, #SilverPrice