Space, the Final Frontier
One of the best parts about my job is being able to speak about pop culture. I am a huge fan of unique information, factoids and trivia. At Osborne Mint we are always searching for activities, things or people to commemorate as a way of preserving history. Our newest collectible round does all the above, it stamps a time in history. If I said our next round 'boldly goes where no "ROUND" has gone before,' would you be able to guess where our round is from?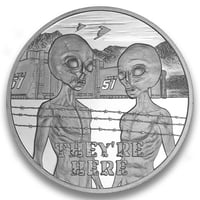 That's right; our next round focuses on space, but more specifically the existence of alien life forms on our own planet. The theme of this coin is Area 51 and its alleged alien inhabitants. This one is extra exciting to me, because space and the possibility of alien lifeforms, have always held my interest. In fact, I was giddy last fall when the Facebook post to Storm Area 51 was launched. Finally I (along with two million of my closest friends) would rush through the gates of Area 51 and see for ourselves the extraterrestrial life they are hiding.
Storm Area 51
I'm sure Matty Roberts had no idea of the movement he was starting when he created a Facebook event inviting people to join him on September 11, 2019 to storm Area 51. His proposed plan was to gather in the desert, and en masse march right up to the gates of that military base and force our way in, giving a whole new meaning to 'May the Force be with you!' What started as a gaff quickly became realistic and then became a potential nightmare.
What is the infatuation with Area 51? We've heard the rumors that there is a vessel from outer space hidden there. Allegedly, the ship crash-landed in July of 1947 in Roswell, New Mexico and from that wreckage we gleaned technological advances that powered our race to the moon. Of course we have the aliens there too. How else did Close Encounters of the Third Kind (Click link to see the IMDB Info) know what these visitors looked like? Someone has to have seen them at Area 51. The intense secrecy surrounding Area 51 has caused it to become the subject of many conspiracy theories regarding the presence of aliens. Wait a minute - Mulder always said that there was something peculiar about the airbase and I am certain the Smoking Man knew something he wasn't telling us! I know 'the truth is out there!'


Hanger 18
Here in Ohio we have our own little Area 51, our secret space alien stash. At the Wright Patterson Air Force Base in Dayton, Ohio, Hanger 18 presents quite the fictional parallel to Area 51. The new television series, Project Blue Book, traces the history of Dayton's Hanger 18 as being rumored to be the test center for the alien wreckage supposedly found in Roswell.
Did you know? Scientist Kenneth Arnold compared the movement of nine mysterious objects over Mount Rainier to that of "a saucer if you skip it across water." This statement later led to the misconception that the objects were shaped like saucers, and to the widespread use of "flying saucer" as a synonym for UFO.
Project Blue Book stars Dr. J. Allen Hynek as a brilliant college professor, recruited by the U.S. Air Force to lead an operation called Project Blue Book investigating UFO sightings. The series is set in the Cold War and atomic era. Each case blends UFO theories with simultaneous authentic historical events. Throughout the series he shares information on Roswell, Area 51, Hanger 18 and more. The professor uses science to determine what really happened to cause the sighting, however in some cases it cannot be explained. In those instances, Hynek believes he's being duped by the government. The evidence suggests a larger conspiracy to cover up the truth that aliens do exist.
Alien Life Form (ALF)
This new collectible has brought back a stream of memories for me that may seem alien to some. ALF, one of my personal favorites, was an 80's sitcom that featured a furry little alien living with the Tanner family after following a radio signal to Earth. Did you know he was an underwear model on his home planet?
Another "alien" that ranks as a favorite was Beldar (aka Dan Aykroyd), leader of the Coneheads. Back in the heyday of Saturday Night Live (SNL), the Coneheads would keep me in stitches.
"Na-Nu Na-Nu," do you recollect that famous line? The late great Robin Williams splashed on the comedy scene as an alien from Ork in the late 70's and early 80's sitcom, Mork and Mindy. This show had me riveted on Thursday nights just waiting to see what Mork would do next. Originally a character on Happy Days, Mork's spin off show skyrocketed the alien theme to new heights. I may or may not have had a pair of those rainbow suspenders. It became tradition at our house during dinner, that just like Orson's sign-on with Mork at the end of every episode; we had to answer the question, "What did you learn this week?"
Close Encounters
Our Area 51 collectible round features two aliens that embody Hollywood's approach to their appearance.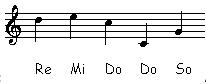 Variations on the look are featured in film after film. For example, the aliens in Close Encounters of the Third Kind, a 1977 movie blockbuster, were very similar to our aliens that emboss the front of the round. Just writing the title of the movie starts the melodic, rhythmic five tones playing in my head: As a kid, I even had the hand signals memorized.
After Close Encounters came Star Wars and E.T. presenting new and various alien depictions, but still a continued belief that we are not alone. We all know the juggernaut that Star Wars became and the numerous sequels, prequels and spin offs, an amazing franchise that seems larger than life -- alien life that is. As for E.T., to this day it is a movie that whenever I catch it flipping channels, I have to stop and watch to the end, "E.T. phone home!" This movie has one of the absolutely best product placements in history, Reese's Pieces. The candy was released in 1978, but it wasn't until the 1982 movie E.T. that sales boomed. The Mars candy company actually passed on the product placement of M&Ms in the movie, while Hersey accepted the opportunity and propelled Reese's Pieces to a 300% growth in sales over the previous year.
With the Fourth of July a coin toss away, I have to share my newest favorite alien experience: Independence Day. What a rush, the original movie had me cheering out loud for Will Smith, Jeff Goldblum and Randy Quaid. Just like the movie's tag line indicated, this is not another E.T. movie: "THESE extraterrestrials don't want to phone home...They want OUR home." When Captain Steven Hiller (Will Smith) and David Levinson (Jeff Goldblum) launch in the alien spacecraft at "warp" speed, Captain Hiller says it best "I have got to get me one of these!" It was that line from the movie I quoted aloud when I picked up my own DVD of the film – happy Fourth of July.
There have been many depictions of alien life in movies, television and art over the years, and we are proud to add our contribution to the mix.
Make Space
The Area 51 collectible round has truly set me on a nostalgic course of pop culture. Make space for this round in your collection. This one-troy ounce of .999 fine silver collectible piece of art measures 39.1 mm(1.54") in diameter and is 0.12" thick. Each Area 51 round come in its own "space" capsule to protect the finish. While the face of the round has the rendition of the aliens and background imagery of Area 51, the reverse side is engraved with USA, signifying that it was made in America like all of our other offerings, .999 fine silver and one troy ounce. The backside also hosts our O|M mark for guaranteed weight, purity and authenticity.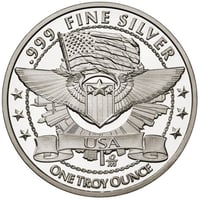 The Area 51 collectible silver round will be exclusively sold on Osborne's Shop The Mint website. Go ahead, quote Captain Steven Hiller yourself and shout to the stars that: "I have got to get me one of these!"
Consider the Area 51 collectible round an alien invasion of your collection.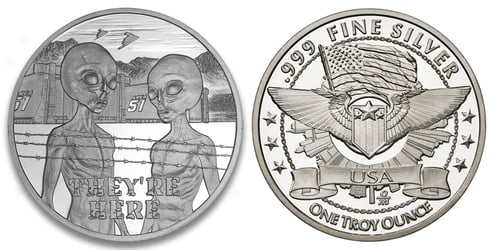 #Osborne, #OsborneMint, #MadeinAmerica, #Area51, #Alien, #Spaceship, #Reeses #Hanger18 #IndependenceDay