Can You See the Light at the End of the Tunnel?
That is the question everyone here at Osborne Mint and Osborne Coinage is asking. Is it time to return to our offices, time we go out and grab a lunch or is it time to just visit with friends and family?
The past two plus months have certainly been interesting, who would have ever predicted it? I can speak from my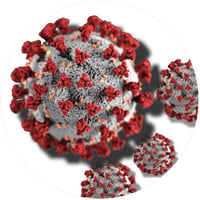 experience that when the news of coronavirus first came out, I did not believe we would be sheltered in place for more than sixty days, that we would be teaching and working only from home and that it would be months before I could visit friends to just hang out. It does however look like things are starting to get back to some sense of normalcy – at least as the news refers to it: "we are returning to a new normal."
Working Remotely
The marketing team, designers and leadership were able to keep our business moving by working from home. This remote perspective seems to have inspired our marketing and design teams. New collectible round design concepts have covered the gamut of featuring our pets, highlighting the balcony and honoring the houseplant. But the most common suggestion, across the board, was to focus on gratitude.
Everyone on our team included the recommendation for a token of gratitude, a simple thank you. Knowing how difficult it will be going forward to share a handshake or give a pat on the back, the team at the mint wanted to symbolize our appreciation. We wanted to allow you to give the gift of a tangible thank you for the efforts of our first responders, frontline personnel, doctors, nurses, delivery personnel, truck drivers, police officers and all essential workers.
Being Thankful
I have numerous people whom I want to thank for their efforts during the pandemic, from my husband who has cooked (or ordered) meals every night, to our neighbor who mowed the yard while we were quarantined. My list of people for whom I am grateful, continues to grow.
Our team at the mint has an immediate solution to show your appreciation. We have designed multiple coins that include a stock THANK YOU design on side that can be paired with a personal message, like: The Job You're Doing Is Important, You're Important, or We Appreciate You!, on the reverse side and no set up charge.
These coins can help to say all those things above in an impactful, personal and memorable way. And if your gratitude has no boundaries, we have manufactured these gifts in golden brass at a cost of less than $3 a piece so that you don't have to break the bank. If golden brass isn't your choice, we can do them in other metals.
What About Something EXTRA?
Our conversations at the mint also led to our desire to create a collectible round that would hold more monetary value and be designed as a piece of art. This particular round will memorialize the events of the COVID-19 pandemic and serve as a conversation starter for years down the road.
This collectible's design features the COVID-19 molecule on the front, and the reverse defines the strength and perseverance of the American people via a bald eagle adorned with an American flag. Unlike our Thank You coins, we increased the monetary value by minting it solid copper, marking this creation as a collectible like no other. We were also able to get a video of the first production run. Here's the first batch coming off the press.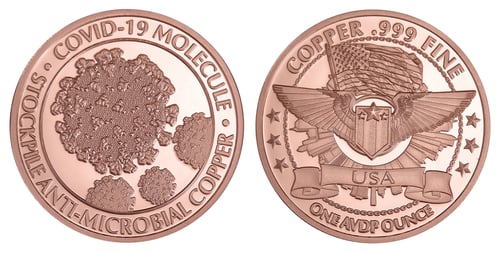 The Covid-19 copper collectible is available exclusively through our distribution partner JM Bullion.
Gibson the Science Girl
When it came time to select the metal for this COVID-19 collectible, science led us to our decision. We realized we could use the coin's compound to fight coronavirus and simultaneously educate the collector.
What material could possibly combat the coronavirus? Copper! For this round we will use a full AVDP (AVDP stands for AvoirduPois) ounce of .999 fine copper perfect for collecting, investing and preventing. Why someone would add this to their collection goes without saying; it is something unique. Investing in it is also quite obvious; copper has monetary value that fluctuates with the market. Preventing is where the education begins, and where I make Bill Nye the Science Guy proud.
According to the Smithsonian Magazine, copper has inherently strong antimicrobial properties. The magazine's article "Copper's Virus-Killing Powers Were Known Even to the Ancients" outlines the historical medical impact of copper throughout the years. The New England Journal of Medicine recently published a report demonstrating that the coronavirus could be killed on the surface of copper in fewer than four hours. Comparatively, the virus remains infectious for more than 72 hours on plastic surfaces. WebMD corroborates both publications with additional suggestions that copper, when utilized in medical settings, could actually eradicate the transmission of the SARS-CoV-2 virus by reducing its ability to transmit itself from surface to person. In fact, statistics detailed that if more hospital surfaces were made with copper as opposed to traditional materials, there could be upwards of an 83% reduction in transferable bacteria loads. With the endorsement of science, the metal for this COVID-collectible must be copper.
Against Tradition
Our standard practice at Osborne Mint is to lacquer or coat our metal collectibles to reduce the potential of tarnishing. This improves the longevity of the pieces and enhances their beauty. However, in this case covering these copper beauties with our lacquered overlay would reduce and practically eliminate the material's antimicrobial power. It was a unanimous decision that these collectibles would remain un-lacquered, which adds even more to their uniqueness, value and mystique.
Share the Light!
More information about our golden brass thank you coins commemorating the impact of the coronavirus on our society is available at Osborne Coinage Thank You Coins.

I can see the light, and I plan to share the light with others through the gift of an Osborne Mint token of appreciation. Please share the light as well.
#Osborne, #OsborneMint, #MadeinAmerica, #Coronavirus, #COVID-19, #Copper, #Smithsonian, #WebMD, #ThankYou, #FirstResponders