THE MONTH OF JUNE
WOW, it is hard for me to believe that June is here, we are halfway through the year and life seems to finally be returning to normal. After a long year, I think everyone here at Osborne Mint is ready for some normalcy – I know I am! Looking over the month of June I found a lot of opportunities to celebrate our beautiful collectibles, minted here in Cincinnati, Ohio. Let's look at the celebrations:
PRIDE Month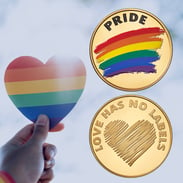 The entire month of June is PRIDE month, where the LGBTQ community celebrates their individuality, diversity, and pride. Osborne Mint has a brightly colored, highly polished golden brass round to commemorate the celebrations. This piece features on one side a rainbow of colors underlining the word PRIDE. The reverse holds a large heart and the text "Love Has No Labels." The 1.54" round has a lacquered finish to preserve the art and reduce the potential for tarnishing. In true celebration of PRIDE Month, a portion of the proceeds from every round sold will be donated to Cincinnati Pride Inc.! Help us spread the love because "Love Has No Labels." View our PRIDE collectible here.
D-DAY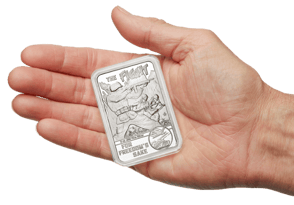 June 6, 2021 will mark the 77th anniversary of D-Day, America's invasion of Normandy. The Second World War lasted from 1939 to 1945 and involved nearly every country on the globe. The battle between the Allies and the Axis powers encompassed the majority of Europe and a massive amount of the Pacific Ocean. While the war was battled overseas, Americans here at home supported the troops on many levels. These sacrifices, shows of support and belief in the cause took many forms. These directives are highlighted with Osborne Mint's "The Fight for Freedom's Sake" WWII propaganda posters. This collection portrays WWII poster artwork that encouraged American citizens to "Buy War Bonds," "Fight for Liberty" and "Join the Armed Services." Currently, there are five .999 fine silver ingots, each bar measuring 2.5" x 1.7" and weighs two Troy ounces. Each of these bars holds a common reverse that is a compilation of multiple propaganda posters. There were over 200,000 various poster designs created during the war and to date we have selected five pieces of art to mint on our collectible silver bars. Read more about this remarkable collection from one of our previous blogs. View the entire collection, some of which are available in very limited quantities, at our Shop-the-Mint site.
ROSE Month
June has been recognized as the ideal month for growing roses, leading to it being named National Rose Month. Coinciding with June being a large month for weddings, roses are used often and seen a lot this month. Osborne Mint has minted a tribute to the enduring beauty of this remarkable flower with the Rose Window stained glass round. Did you know that President Ronald Reagan declared the rose the national floral emblem of the United States while standing in the White House Rose Garden in 1986?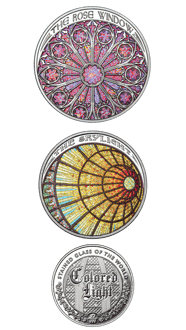 Did you also know that one of my mom's favorite songs was about roses, "I Never Promised You a Rose Garden" by Lynn Anderson? Roses are a beautiful and enduring aspect of our national history and culture. The same beauty of the rose is replicated in the art of the remarkably colored Rose Window collectible. This piece is adorned with angles and edges that separate and reflect light in the same manner as real stained glass. You will see the shimmer of this round as you waffle it in your hand. The Rose Window is part of the two-round collection "Colored Lights." Renowned American medallic sculptor and artist Michael Berman "painted" these stained glass pieces as a tribute to the artistry of the past. The life-like vision formed from a combination of world-renowned stained glass windows is minted and colored on a one-ounce fine silver round measuring 39 mm in diameter. The Rose Window is a kaleidoscope of pastel rose, pink and violet that plays off the silver-framed panes and serves as a true tribute to Rose Month. Read more about "The Rose Window" and "The Skylight," its counterpart in the collection, in Osborne Mint's Colored Lights Collection.
FATHER'S DAY
Osborne Mint has the solution for the greatest Father's Day gift and it isn't a tie. In honor of dad's ever-growing legacy, give him the amazing "American Legacy Collection."Some dads will be able to see the coins of their youth, others will see the currency of their elders and all dads can experience the wealth of change. The "American Legacy Collection" depicts four historical coins: the 1893 Morgan Dollar, the 1909-S Lincoln Penny, the 1913 Buffalo Nickel and the 1964 Kennedy Half Dollar. Each of these collectibles holds a moment in history that differentiates them from the other coins in dad's pocket. These iconic coins are re-interpreted in one ounce of .999 fine silver rounds with extreme detail and engraving depths ten times greater than standard reliefs. Read more about the entire "American Legacy Collection." Order today to ensure you receive yours by Father's Day on Sunday, June 20th.
METEOR WATCH DAY
I'm hoping for clear skies on June 30th, as that date is known as Meteor Watch Day. Sometimes called shooting stars or falling stars, these anomalies are actually bits of asteroids, space dust and ice that enter the earth's atmosphere at high speeds and often burn up, producing the streaks we see across the sky. Now I have also heard that meteors are rocks tossed from the windows of alien spaceships as they rocket across the universe. Osborne Mint has an out-of-this-world collection that includes aliens visiting Area 51 ("They're Here"), promising a return to earth ("We'll Be Back") and going all X-Games across the surface of our moon ("Do Not Attempt On Earth"), and certainly kicking up some soon-to-be meteors.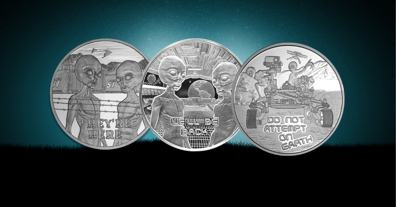 The intricate designs seem almost alien in their precision and detail, but alas they were designed and minted right here on earth at Osborne Mint. The .999 fine silver rounds are 1.54" in diameter and weigh one Troy ounce. These collectibles share a common reverse that hosts wings of flight, the American flag and the official O/M mark of authenticity. To read more about "Space, the Final Frontier" (editorially one of my favorite blogs penned for Osborne Mint because of all the pop-culture references), follow this link. You can transport these aliens right to your house via our Shop-the-Mint e-commerce site. "Na-Nu Na-Nu,"
FLIP A COIN DAY
Officially June 1st, Flip A Coin Day is widely accepted as any day in June. Around Osborne Mint we consider Flip A Coin Day every day of the year! Tradition dates this activity back to when Julius Caeser would flip a coin to make a decision when the best choice was unclear. The correct answer was always "heads" which of course was his image on the coin. Now not everyone has the opportunity to flip a coin with their image on it, but with Osborne Mint and our customizing ability, you can indeed have a copper or brass round with your image. Consider it a selfie you can put in your pocket. Contact us at the mint and we will begin the process of crafting an undeniably unique coin that you can flip, any day you want. *Minimums Apply.
JUNE 2021
Osborne Mint makes it easy and fun to celebrate June. In fact, for us June will be the debut of our new collection the Cryptids, also perfect for dad's big day. Cryptids are animals that survive in legend and folklore, while never really being proven to exist, until now. We at the mint are constantly searching for the next Yeti, Jackalope, Jersey Devil and Drop-Bear and we have found them on our collectible one-ounce, .999 fine silver, 39mm rounds. The first of the series, The Yeti (Abominable Snowman), is for sale now; the others in the series will be accessible later this year. Enhance your Cryptozoology knowledge by reading more about this giant of a round and the others in this collection on The Yeti round's page on our website.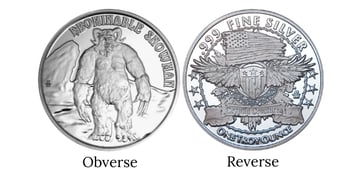 Now I am more excited than ever about the month of June. Sure it is the halfway mark of the year and our potential doorstep to normalcy, but now I can celebrate roses, aliens and dads with gifts that mark the occasions in style. June is going to be a great month.
Bookmark our blog page, share on social media (Facebook , Instagram) and send it to fellow collectors. Look for our hashtags...#Osborne, #OsborneMint, #MadeinAmerica
Osborne Mint products are proudly made in the USA and every purchase of an Osborne Mint product supports American jobs.