The Angels and Demons Collection - Egbert
The Steampunk collection is a series of 12 fine silver rounds featuring six sexy Angels and six steamy Demons. Egbert, aka "Fearless Warrior" is the sixth demon in the collection.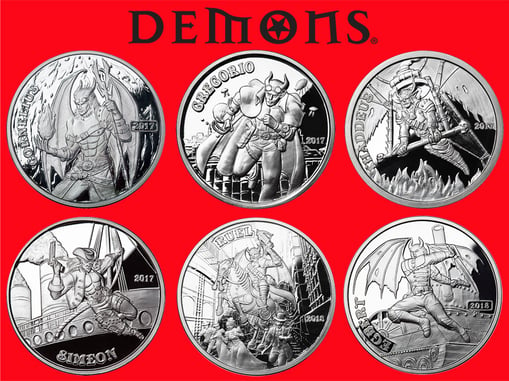 Egbert was born not to fight enemies, but to defeat them. With a sword in one hand and gun in another, he is unstoppable both in close combat and a gunfight. His powerful demonic wings make him even more dreadful when it comes to fighting as he uses his wings to hover above his prey before skewering them with his sword. He finishes the job with a quick shot to the head.
The round's reverse features the Angels & Demons logo, surrounded by gears, cogs and buckles. ".999 Fine Silver 1 ounce" is also marked on the coin. The Angels & Demons collection is also available in 5 oz proof. Egbert is available in both proof and vintage styles.
Egbert Proof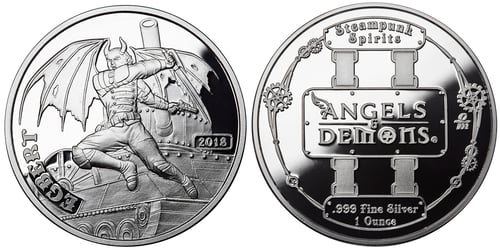 Egbert Vintage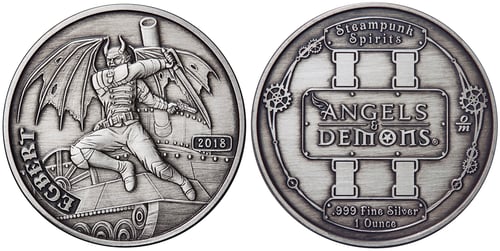 Minted in Cincinnati Ohio from American sourced .999 pure silver, it has a minimum weight of 1 Troy Ounce. Each Coin is struck to proof standard, serial numbered, packed in a clear capsule and ships along with a Certificate of Authenticity with matching number. Every product made by Osborne is manufactured to the strictest standards for metal purity, weight and dimensions.
Available now from top silver coin wholesalers: