During WWII, war posters extolling the virtues of volunteering for the armed forces, conserving resources and supporting the war effort were important propaganda tools. Ther was not a shop or business in America that didn't have at least 1 poster extolling the virtues of saving, sharing and sealing (your lips). Our latest collection features some of the most iconic war posters on an oversized silver ingot, allowing the true impact of the message to shine on this large silver "canvas".
The first release, "Americans will Always Fight for Liberty", shows brilliantly colored minutemen from 1778 standing in the background, silently supporting their 1943 brothers-at-arms as they march off to war.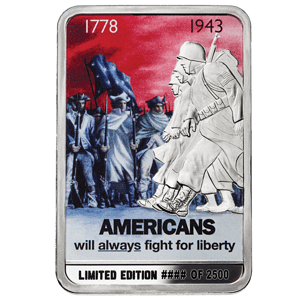 The common reverse for the entire collection shows the grittiness of the fight with soldiers advancing through gunfire and smoke while flanked by tanks and aircraft.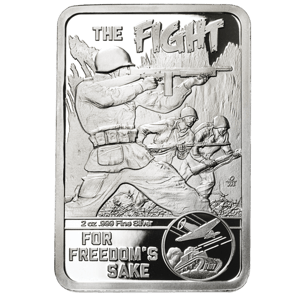 The approximate dimensions of the limited edition, 2 troy ounce ingot are 2.50" x 1.70". Only 2,500 of each design will be minted. Each ingot is individually numbered, packed in a custom-fitted capsule and has a corresponding certificate of authenticity.
To truly see the impact of this larger size, picture it in a man's hand.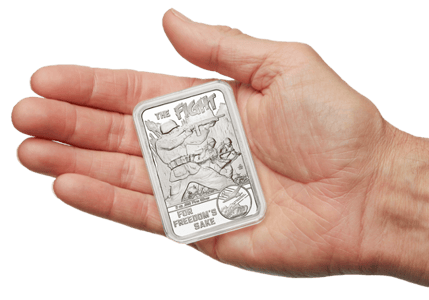 Minted in Cincinnati, Ohio from American sourced .999 pure silver, it has a minimum weight of 2 Troy Ounces. Each ingot is struck to proof standard, serial numbered, packed in a clear capsule and ships along with a Certificate of Authenticity with matching number. Every product made by Osborne is manufactured to the strictest standards for metal purity, weight and dimensions.

Available now from top precious metal dealers:
Related articles and pages:

"From the Mint" Book VII
Fight for Freedom's Sake Collection, portfolio page