The third release in the series of the Western Skulls collection features a portrait of a highly detailed "Gunslinger" skull with hat and a pair of pistols, and the recognizable motto "Liberty" behind the character in a fashion similar to U.S. coinage. The Western Skulls collection consists of six rounds adapted from the familiar US American Silver Eagle, with a twist. Each is a unique western archetype, rendered as a highly detailed skull.
Gunslinger
The common reverse of the American Western Skulls silver rounds feature the design that will be used throughout the series.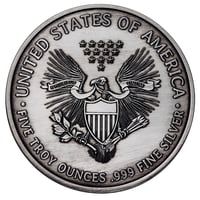 Referred to as the fried eagle, this image is a clever twist on the heraldic eagle found on the reverse of American Silver Eagle coins. It features the American bald eagle's skeletal form behind the national shield as it clutches the arrows of war in one talon and the olive branch of peace in the other. This limited edition collection is available in 1 ounce and 5 ounce .999 silver. Proof, antique and colorized finishes are offered in both weights.
Minted in Cincinnati Ohio from American sourced .999 pure silver, it has a minimum weight of 1 Troy Ounce or 5 Troy Ounces. Each Coin is struck to proof standard, serial numbered, packed in a clear capsule and ships along with a Certificate of Authenticity with matching number. Every product made by Osborne is manufactured to the strictest standards for metal purity, weight and dimensions.