The Angels and Demons Collection - Demon Ruel
The Steampunk collection is a series of 12 fine silver rounds featuring six sexy Angels and six steamy Demons. Ruel is the fifth demon in our Steampunk Angels & Demons Collection. Ruel is a merciless Bandit who has a demonic horse and a crossbow imbued with a spell so it never misses a target.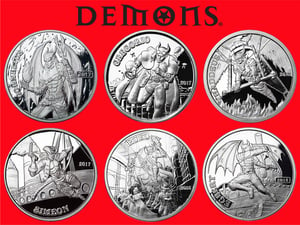 Ruel spreads fear and horror in cities around the world. People flee in terror from his fire breathing horse and crossbow skill.The round's reverse features the Angels & Demons logo, surrounded by gears, cogs and buckles. ".999 Fine Silver 1 ounce" is also marked on the coin. The Angels & Demons collection is also available in 5 oz proof. Ruel is available in both proof and vintage styles.
Ruel Proof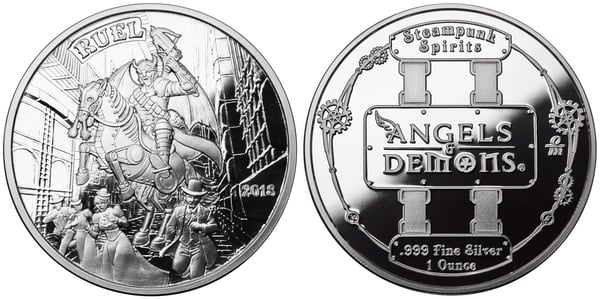 Ruel Vintage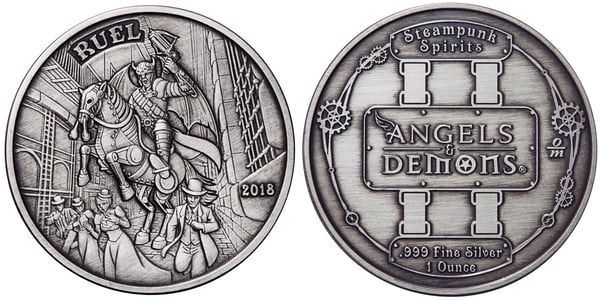 Minted in Cincinnati Ohio from American sourced .999 pure silver, it has a minimum weight of 1 Troy Ounce. Each Coin is struck to proof standard, serial numbered, packed in a clear capsule and ships along with a Certificate of Authenticity with matching number. Every product made by Osborne is manufactured to the strictest standards for metal purity, weight and dimensions.
Available now from top silver coin wholesalers: