The new Steampunk collection is a series of 12 fine silver rounds featuring six sexy Angels and six steamy Demons. Theodosia is the first angel in our Steampunk Angels & Demons Collection. She is a Femme Fatale, who uses her feminine wiles to get what she wants - whether it's cash, diamonds or information. Dressed for seduction in a short skirt, lace trimmed bustier, thigh high boots, and goggles, she's ready to do whatever it takes to achieve her deepest desires.
The round's reverse features the Angels & Demons logo, surrounded by gears, cogs and buckles. ".999 Fine Silver 1 ounce" is also marked on the coin. The Angels & Demons collection is also available in 5 oz proof. Theodosia is available in both proof and vintage styles.
Theodosia Proof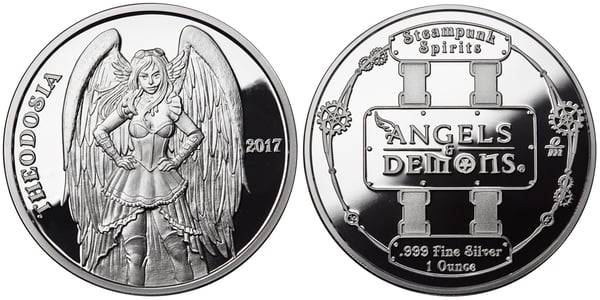 Here she is struck in .999 fine proof silver.
Theodosia Vintage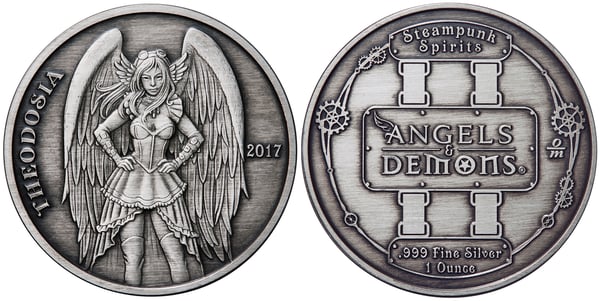 Theodosia in .999 fine vintage silver.
Minted in Cincinnati Ohio from American sourced .999 pure silver, it has a minimum weight of 1 Troy Ounce. Each Coin is struck to proof standard, serial numbered, packed in a clear capsule and ships along with a Certificate of Authenticity with matching number. Every product made by Osborne is manufactured to the strictest standards for metal purity, weight and dimensions.