Wall Flower is the featured art on the fifth coin in the Amy Brown Collection. The collection was created by Anonymous Mint and struck by Osborne Mint. Wall Flower portrays a beautiful, shy, pouting fae standing outside against a wall. She stands amongst flowers perhaps hoping to blend in with them as they match the floral motif that is tattooed on her arms, chest and waist. Her upper arm is also decorated with a golden arm bangle while her lower arm has a lacing. Wall Flower wears a cropped bodice and long skirt with her purple and orange wings protruding behind her bare shoulders. Her long, flowing auburn hair is adorned with the same flowers seen growing along the wall. The art piece is painted in rich autumn colors. Wall Flower originated in 2012 and is featured in the Amy Brown book Visions of Faery II.
Wall Flower
This limited edition collection is available in 1 ounce and 5 ounce . 999 silver. Proof, antique and colorized finishes are offered in both weights.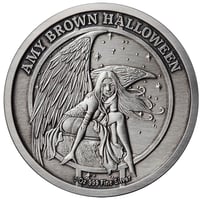 The round's common reverse features Amy's well-loved work, DUSK, created in 2003. Dusk displays a Faery with large, graceful feathered wings. Her long hair is flowing in the breeze as she peers out dreamily from her vantage point. Her upper arms are adorned with encircling bracelets. While Dusk is shown seated, it appears as though she could come up and off the surface of the coin at any moment. The background displays stars twinkling in the early evening twilight. The text "Amy Brown Collection" appears across the top rocker of the coin with the weight and purity at the bottom center.
Minted in Cincinnati Ohio from American sourced .999 pure silver, it has a minimum weight of 1 Troy Ounce or 5 Troy Ounces. Each round is struck to proof standard, serial numbered, packed in a clear capsule and ships along with a Certificate of Authenticity with matching number. Every product made by Osborne is manufactured to the strictest standards for metal purity, weight and dimensions.