The Mucha Collection's fourth coin in the series is Champagne White Star. Alphonse Mucha worked with a very prominent champagne company producing catalogues, postcards and posters. In 1899 for their lighter champagne, he produced the poster Champagne White Star. The piece portrays a sensual blonde in a pink dress baring her shoulders and holding a bowl of grapes. The beautiful woman is surrounded by grape vines. This piece is licensed by the Mucha Foundation.
World renowned artist/painter Alphonse Mucha was born in the Czech Republic in 1860. At the early age of 17, Mucha resolves to become a professional painter and set outs to begin his art studies in Munich. Mucha moved to Paris in the late 1800s, continuing his studies and becoming very successful producing magazine and advertising illustrations. It was about 1895 that Mucha produced posters for plays which catapulted his success. He produced a flurry of posters, advertisements, paintings and book illustrations. Mucha also designed wallpaper, jewelry, and even theatre sets.
Mucha moved to Prague continuing with his brilliant art decorating landmarks around the city with murals. When Czechoslovakia gained its independence, Mucha designed new postage stamps, banknotes, and government documents. He continued his art through to 1939 when he passed.
Alphonse Mucha was best known for his art of beautiful women which will be portrayed in this coin series. The "Mucha Style" became known as Art Nouveau which is French for new art. The Art Nouveau period was most famous from 1890 - 1910.


Champagne


This limited edition collection is available in 1 ounce and 5 ounce .999 silver. Proof, antique and colorized finishes are offered in both weights.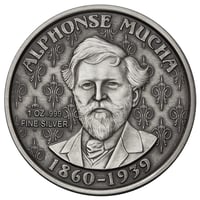 The common reverse features a portrait of Alphonse Mucha with fleur-de-lis in the background, his name, birth and death date and the round's weight and purity.

Minted in Cincinnati Ohio from American sourced .999 pure silver, it has a minimum weight of 1 Troy Ounce or 5 Troy Ounces. Each Coin is struck to proof standard, serial numbered, packed in a clear capsule and ships along with a Certificate of Authenticity with matching number. Every product made by Osborne is manufactured to the strictest standards for metal purity, weight and dimensions.