This custom copper round is based on the John F. Kennedy silver dollar. The 1964 Kennedy Half Dollar was the fastest to market coinage ever commissioned by the United States Mint. The discussion of a commemorative Kennedy coin began in a matter of weeks after the assassination, and production of the coin was completed in just five months. It took an act of Congress to authorize the creation of this new currency. The grieving widow was given the choice of the quarter or the half dollar for this treasured memorialization. She selected the half dollar as she did not want to remove President George Washington from United States currency.
The initial strike was for 70,000 coins to be circulated from the Denver and Philadelphia mints. These coins disappeared in a day. Original plans included minting 91 million 1964 Kennedy Half Dollars, but because of the demand that number was modified to 141 million by year's end. Despite the increasing production quantities, these coins were immediately scarce. The original 1964 half dollars were hoarded, cherished and to this day are still in high demand.
This version is 1 AVDP solid ounce of .999 fine copper, while the original 1964 Kennedy Half Dollar was the only version to be minted from 90% silver.
The reverse is a custom design of an eagle with outstretched wings, showing USA and the weight and purity on the top and bottom border.
John F. Kennedy & Custom Reverse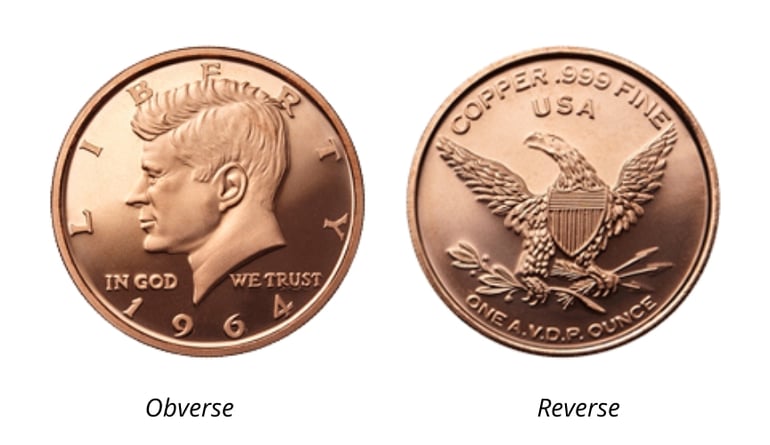 Our rounds are die struck in Cincinnati Ohio, from .999 pure American copper with a minimum weight of 1oz AVDP per coin. They are struck with reeded edges like a US quarter and made coin turn.
Pure copper coins are sensitive to the oils on your fingers, so handle with gloves or by the edges if you want to avoid staining. We also recommend storing in a sulfur free environment, in pvc free tubes, flips or capsules.
Products made by Osborne are manufactured to strict standards for metal purity, weight and dimensions. We proudly stand behind the tens of millions of coins we make every year.
Interested in Americana design collectibles?