Our collection of ingots features designs from historical American coinage or images commonly associated with the United States.
The Walking Liberty is one of the most beautiful designs to grace American coinage. Made by the US Mint between 1916 and 1947, it was featured on a silver half dollar. It shows Lady Liberty walking toward the sun with one arm outstretched and the other cradling oak and laurel branches close to her body. Her cape of stars and stripes flutters on a gentle breeze as she walks.
The reverse features the familiar wings and shield from our round, reinterpreted for a bar, and surrounded by scroll work. The weight and purity are worked into the design.
Ingot Walking Liberty and Wings/Shield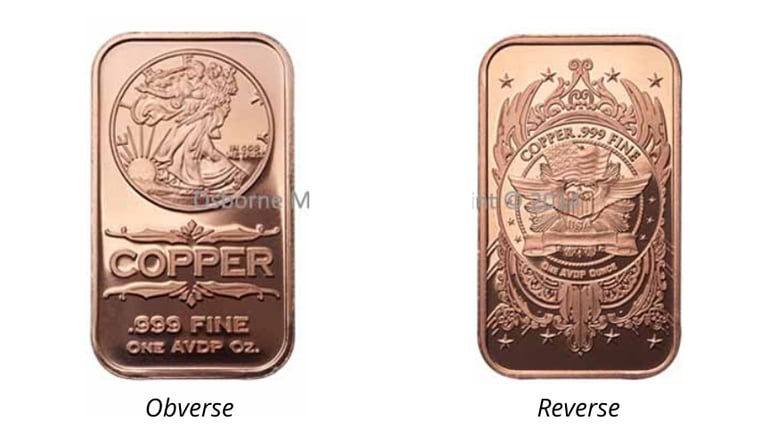 Our ingots are die struck in Cincinnati Ohio, from .999 pure American copper with a minimum weight of 1oz AVDP per coin. They are struck with plain edges like a US nickel and made page turn.
Pure copper coins are sensitive to the oils on your fingers, so handle with gloves or by the edges if you want to avoid staining. We also recommend storing in a sulfur free environment, in pvc free tubes, flips or capsules.
Products made by Osborne are manufactured to strict standards for metal purity, weight and dimensions. We proudly stand behind the tens of millions of rounds and bars/ingots we make every year.