In Mint Condition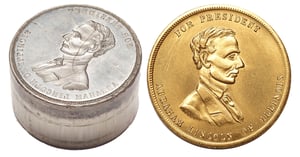 Osborne Mint strikes thousands of collectible rounds every year. We made campaign medallions for President Lincoln and struck fiber discs to become WW II food ration tokens. Since 1835 we have struck everything from a country's official currency to collectible coins in honor of the moon landing. We are the oldest privately owned and operating mint in the United States actually; the only operating mint older is the Official U.S. Government Mint which started production in 1792.
In Mint Location
With the advancement of the internet we have been able to expand our business globally. Although our business has expanded to other countries, our production has not.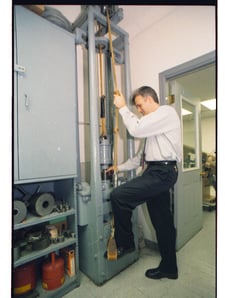 We are 100% Made In America and we do it all right here in Cincinnati, Ohio. Our location enables us to serve as a centralized production facility that is 600 miles away from 60% of the U.S. population and with easy access to the globe via the Cincinnati International Airport (CVG). Our 60,000 square foot facility has state of the art production machinery that we have continued to update to stay on the cutting edge of the industry. However, we do still have our original hammer coin press, which we put to use every once in a while.
A Mint Craft
Our average tenured employee has 22 years of mint experience and our engraving staff has a combined 100 years of crafting. Our hand engraver has worked for Osborne Mint for 27 years and still cuts dies with very small chisels and hammers. He is a true master craftsman and still in mint condition. When you visit with Master Hand Engraver Tim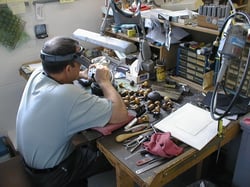 Thompson, you understand the depth of his engraving knowledge and gain a glimpse of his creative abilities. To see a blank shape with a flat, round, top be formed into a die that will be used to strike hundreds if not thousands of collectible rounds is truly amazing. (In an upcoming From the Mint blog we will visit in depth with Master Hand Engraver Thompson and find out his favorite engravings from over the years.)
Mint Metals
Osborne Mint, with parent company Osborne Coinage, is one of the largest purchasers of fine silver blanks in the United States. We also purchase brass, nickel silver, copper and aluminum. At Osborne Mint we primarily incorporate fine silver, gold plate and copper in our round productions. We even are able to combine metals and make some very unique collectibles that share nickel silver and copper in the same coin.
I mentioned earlier that we produced currency for a foreign country. When this country was searching for a mint to partner with, their major concern was to prevent counterfeiting of their currency. Together with our design and production capabilities we were able to craft a shared metal coin that exponentially reduces the possibility of it being replicated.
Mint Art
Professional numismatists, true coin collectors, re-sellers and distributors all know that Osborne Mint is synonymous with quality. Products made by Osborne are manufactured to strict standards for metal purity, weight and dimension. Because of these high standards we receive numerous inquiries to commemorate art. We are honored and humbled by the number of artists that request their art or essence of their art be transposed onto a coin.
Featured collections include works from fantasy artist Lisa Parker who specializes in wildlife drawings with a magical twist. We transposed her witchcraft, gothic and fantasy focused canvas art into a stunning six coin, individually numbered, collectible series that is truly mystical.
One of our newest collections features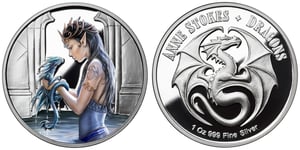 British artist Anne Stokes whose gothic, steampunk, tribal art is flawlessly depicted in her six coin Dragon Series of collectible rounds. Some of her most breathtaking and spiritual design work is portrayed in digitally colorized coins which bring Stokes' art to living color.
I Mint It
With nearly 200 years of minting heritage, hundreds of thousands of rounds struck and a future as bright as the silver we mint with, Osborne Mint is looking forward to another century of being in mint condition.
Bookmark our blog page, share on social media and send it to fellow collectors. Look for our hashtags...#OsborneMint #OsborneCoin #MadeinAmerica #LisaParker #AnneStokes