"From the Mint", Book V
Bragging Rights for the Humble Penny
Your Lucky Penny
Whenever I see a penny on the floor I pick it up and put it in my shoe. I am a firm believer that stashing that penny near my sole will bring me a full day of good luck. There are a few times where I've been double lucky enough to gather a penny for each
shoe and wow what days those were! Many of these pennies, once I have drained the luck out of them, end up in my penny jar on my bureau at home. Periodically I scatter the pennies from the jar across my kitchen table and exam in more detail my collection of one centers. My first search is always to see if there are any "Wheat Pennies" in the mix. I have quite the collection of these unique coins, which on the reverse side features Abraham Lincoln, the first President ever to be portrayed on a US coin. My love for, and collection of, Lincoln wheat pennies contributed slightly to this blog topic and the choice to add a likeness of the 1909-S Lincoln Wheat Penny to the Osborne Mint's American Legacy Collection™ of notable US currency.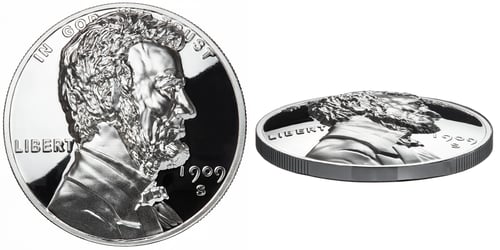 Makes Cents
One of my favorite perks for those regularly reading this blog is being alerted ahead of time of new products and product launches. Here is one such opportunity, as the focus for this post is to introduce our readers to the third and newest component of the American Legacy Collection™, the 1909-S Lincoln Penny. On September 20th, 2019 this collectible round will make its world debut and take its place alongside the previously released American Legacy honored coins, the 1913 Buffalo Nickel and the 1893 Morgan Silver Dollar. Now you are some of the first to know.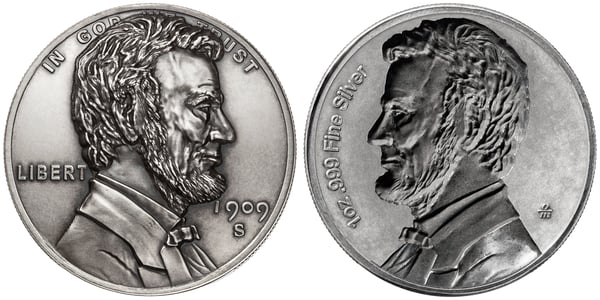 A Penny Saved is a Penny Earned
The 1909-S Lincoln Penny was designated for the collection, not just because I said so, but because of the uniqueness of this coin. The renovation of the American one-cent piece in 1909 was the first major change to this coin in over 50 years. The original 1909-S Abraham Lincoln One Cent piece was the first coin minted to feature a real person in the art. Moreover it featured President Abraham Lincoln as the first president ever to be honored with his likeness on a coin. The collectability of this coin is escalated by its limited quantities. The San Francisco Mint (S) struck only 484,000 1909-S Lincoln Pennies and their entire lot was distributed in only one day. Because of the limited striking and increasing scarcity of these coins in circulation, true numismatists have shelled out upwards of $90,000 for one penny, depending on the grade.
Penny for Your Thoughts
Orison Swett Marden was once quoted as saying, "One penny may seem to you a very insignificant thing, but it is the small seed from which fortunes spring." Our 1909-S Lincoln Penny is just such a significant fortune starter. This round is crafted in .999 fine silver, measures 39.1 mm round, is individually numbered and bears a certificate of authenticity from Osborne Mint. Each penny crafted is held to the strictest standards for weight, dimensions, design consistency and metal purity. And like everything we do here at Osborne Mint these 1909-S Abraham Lincoln Pennies are completely "Made in the USA!"

More Pocket Change
Finding a penny and placing it in your pocket as opposed to your shoe may not provide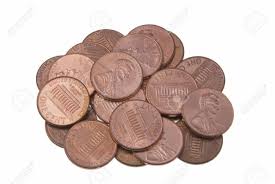 the same amount of luck, but it can fill your penny jar. And with that jar full of pennies you can purchase your own collectible 1909-S Lincoln Penny. Individual pricing will be determined by the current silver market rates. Upon its release from the Osborne Mint the 1909-S Lincoln Penny will be immediately available only through our certified precious metal dealers, including APMEX and Littleton Coin.
Be certain to continue reading the Osborne Mint blog, From the Mint. The 1909-S Lincoln Penny is the third in the series of four coins for the American Legacy Collection™ and like I did here, I plan to give you a heads up on when the fourth collectible round in the series is ready for release. I can tell you that our calendar shows the last coin in the American Legacy Collection is scheduled before this year's end. Keep reading and you will be lucky enough to know first.
Bookmark our blog page, share on social media and send it to fellow collectors. Look for our hashtags...#OsborneMint #OsborneCoin #MadeinAmerica #Coin #Numismatists #Coinage #Rounds #Lincoln, #Cincinnati, #Penny, #Money #President #WheatPenny