"From the Mint", Book IV
Dragons, Dragons, Dragons
Games of Thrones, Dungeons and Dragons and How to Train Your Dragon all feature dragons and two of these three examples even have the word dragon in their name. People of all ages have become obsessed with dragons and all that they represent. There is even an entire conference every year in Atlanta, Georgia called Dragon Con, which is focused completely on dragons. This multi-media and pop culture event focuses on science fiction and fantasy, gaming, comics, literature, art, music, and film, all about dragons. With the 32nd annual Dragon Con just around the corner (Aug 29 – Sept 2, 2019), we wanted to highlight some of the dragon coins we have minted.
We Do Dragons
As with any pop-culture event or trend, there is an opportunity to celebrate and commemorate the movement with a collectible coin. Osborne Mint has struck many a coin featuring dragons. We have engraved fire-breathing dragons on copper coins, flying dragons on game tokens and friendly, even somewhat lovable dragons on collectible rounds. Two of our mint's most popular dragon-themed coin sets are Amy Brown Collection (Fantasy Art) and Anne Stokes Dragons (Art Collectables). Both artists are renowned for their fantasy designs and are listed in the top ten of all fantasy artists world-wide.
Dragon Collecting
Two of the collectible rounds in the Amy Brown collection feature her work from over twenty-five years of painting faeries. The fantasy art that Brown creates can be found on t-shirts, posters, statues and now collectible rounds. Only two of the six coins in the most recent Amy Brown Collection have dragons on them, one coin with a small dragon and the other coin with one large, named Discovery and Dragon Secrets. However, the theme of all the coins is relative to the spirit of dragons.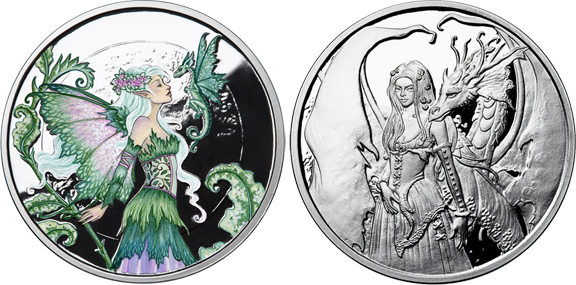 The coins are available in 1 ounce and 5 ounce .999 fine silver with a finish of high polish, antique or colorized. Let me tell you "…the colorized versions of these coins are a knock-out and really serve to best represent Brown's art." These collectibles are each individually numbered by Osborne Mint and include a matching certificate of authenticity.
The first dragon coin, Discovery, debuted in 2017. As the fourth round in the Amy Brown collection, the artwork shows a stunningly gorgeous profile of a faery with long flowing locks adorned with a spray of flowers and a billowy dress flowing in the breeze. A small winged dragon is airborne hovering face to face with the faery. This art expresses a perfect fantasy pairing of the fae and the wyvern. The colorized version of the coin tints the faery's dress purple, her hair white and her little dragon friend in emerald green.
The sixth collectible in the Amy Brown series shows a dragon whispering into the faery's ear sharing a secret and creating a bond of friendship. This round is poetically titled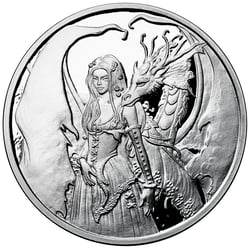 Dragon Secrets. The dragon blankets the faery from behind and rests its head on her shoulder. The fae's beauty and style are defined by the contrast aside the scaly creature. Dragon Secrets imagery originated in 2011 and is featured in the Amy Brown book Visions of Faery.
The first round in the collection was minted and released in late 2017 while the sixth and final round, Dragon Secrets, book-ended the series in the summer of 2018. All six rounds share an identical reverse side featuring Brown's famous work of art Dusk, created originally in 2003. Dusk is the faery responsible for watching over the fantasy realm as daylight gives way to nighttime. These rounds are individually numbered and share the headline Amy Brown Collection.
Amy Brown's rounds position dragons as a complement to her faery imagery. Although dragons are not the focus of her art, they still command attention.
Dragons Are Art
One of Osborne Mint's most collected dragon sets is comprised of six rounds designed by Anne Stokes. Stokes is celebrated as one of the top 10 fantasy artists in the world. Her use of symbolism within her art conveys meaning and evokes thought. Known for her inspirational art and mythical focus, she has acquired a cult like following.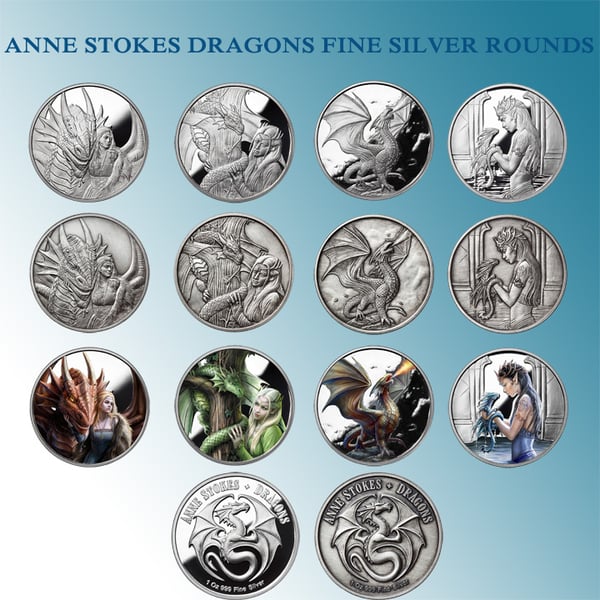 The collection of six limited edition and numbered coins crafted by Stokes are pieces of art captured in .999 fine silver. Unlike Amy Brown's dragon art, the Stokes series is dedicated solely to the dragon. The first of the series, Friend or Foe, shows shared space on the round between a dragon and a fur-cloaked woman who has no fear. The Kindred Spirits round expresses the love between a dragon and its queen. The Noble Dragon coin depicts a dragon standing at attention in all its grandeur. The Water Dragon round renders a small dragon being raised from the waters and captured in an inquisitive stare with an elven princess. The fifth and sixth coins are yet to be released. The fifth is the Skull Embrace and the sixth round of the set will feature the strength and loyalty of the dragon aptly named Fierce Loyalty.
This new dragon series featuring Anne Stokes' breathtaking designs are bound to enthrall existing fans and surely create new ones.
Dragon On
Osborne Mint is fortunate to work with such notable artists as Amy Brown and Anne Stokes, and we are proud to produce rounds reflective of their talents. It is an honor to immortalize their art in coinage for all eternity, both in this world as well as the fantasy world. We hope that these successes of presenting art through our medium inspire other artists to do the same.
Look for the Osborne Mint dragon coins, medallions and collectible rounds if you attend this year's Dragon Con.
Bookmark our blog page, share on social media and send it to fellow collectors. Look for our hashtags...#OsborneMint #OsborneCoin #MadeinAmerica #DragonCon #AmyBrown, #AnneStokes #Dragon #Coin #Numismatists #Coinage #Rounds #GameofThrones #DungeonsandDragons #HowtoTrainYourDragon #Faery #Fairy #Fantasy