Anne Stokes Skull Embrace
The fantasy art of Anne Stokes features life-like portrayals of art themes ranging from the romantic and mystical to the dark underworld of gothic subjects. Originally from London, England, Anne started her career as a merchandise designer for bands including the Rolling Stones and Queen. Many celebrities and musicians have worn her designs. In addition, Anne worked as a sculptor and jewelry designer producing items specifically for Harry Potter and Terry Pratchett's Discworld.
The collection features some of Ms. Stokes' most well known works including: Friend or Foe, Kindred Spirits, Nobel Dragon, Water Dragon and Skull Embrace.
Skull Embrace features a small dragon wrapped menacingly around a human skull.
Skull Embrace
This limited edition collection is available in 1 ounce and 5 ounce .999 silver. Proof, antique and colorized finishes are offered in both weights.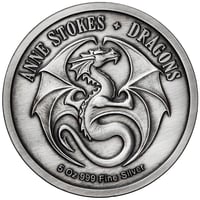 The common reverse features Ms. Stoke's familiar dragon logo with the weight and purity marked on the back.
Minted in Cincinnati Ohio from American sourced .999 pure silver, it has a minimum weight of 1 Troy Ounce or 5 Troy Ounces. Each Coin is struck to proof standard, serial numbered, packed in a clear capsule and ships along with a Certificate of Authenticity with matching number. Every product made by Osborne is manufactured to the strictest standards for metal purity, weight and dimensions.

Available now from top silver coin wholesaler: