A memorable nativity scene.
Osborne Mint catches one of the most iconic holiday scenes, the nativity scene. Join the celebration of the birth of baby Jesus. The beautifully crafted round features the nativity scene illuminated by the Star of Bethlehem, also know as the Christmas Star. This is a wonderful addition to your Christmas collection. The common reverse side features a very intricate and beautifully crafted snowflake.
Nativity and Star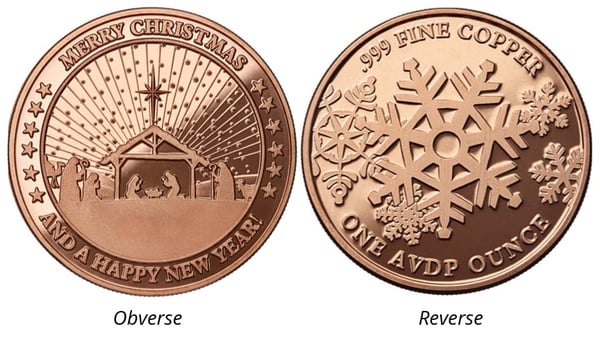 Minted in Cincinnati Ohio from American made .999 pure copper, it has a minimum weight of 1oz AVDP per coin. The coining dies for Osborne Mint copper rounds are satin frosted, after which the backgrounds are carefully polished to a mirror finish, giving each coin a cameo-like appearance. Our traditional style rounds are struck with reeded edges like a US quarter, and made coin flip. Every product made by Osborne is manufactured to the strictest standards for metal purity, weight and dimensions. Pure copper coins are sensitive to the oils on your fingers, so handle them with gloves or by the edges to avoid staining. We recommend storing in a sulfur-free environment, like pvc-free tubes, flips or capsules. We proudly stand behind the tens of millions of coins we make every year.

Available now from top silver coin wholesalers: