We are all guilty of dressing up our pets.
You know you've done it (and if you haven't, you want to), you are not alone, so feel no shame! All pet parents get their animals into the holiday spirit as well. For those of you that have dressed up your pets or just love cute animals in holiday costumes, Osborne Mint's Christmas Dog was made just for you. This adorable collectible copper round features a dog ready for the holidays and imitating his holiday heroes, Santa's reindeer. The common reverse side features a very intricate and beautifully crafted snowflake.
Christmas Dog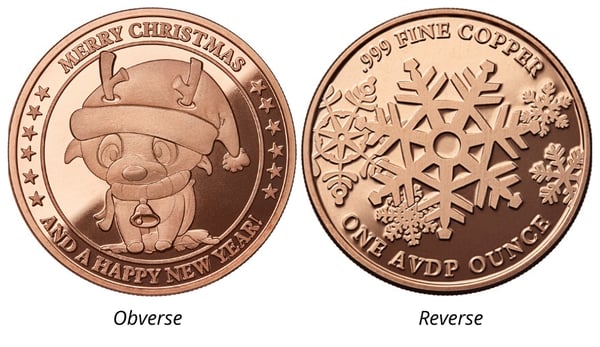 Minted in Cincinnati Ohio from American made .999 pure copper, it has a minimum weight of 1oz AVDP per coin. The coining dies for Osborne Mint copper rounds are satin frosted, after which the backgrounds are carefully polished to a mirror finish, giving each coin a cameo-like appearance. Our traditional style rounds are struck with reeded edges like a US quarter, and made coin flip. Every product made by Osborne is manufactured to the strictest standards for metal purity, weight and dimensions. Pure copper coins are sensitive to the oils on your fingers, so handle them with gloves or by the edges to avoid staining. We recommend storing in a sulfur-free environment, like pvc-free tubes, flips or capsules. We proudly stand behind the tens of millions of coins we make every year.

Available now from top silver coin wholesalers: